The SOA Literary Festival owes its success to a dedicated team of authors whose passion, creativity, and hard work turned this platform into a thriving celebration of literature. These authors, whose names and backgrounds may vary, share a common commitment to the written word and a vision of fostering a vibrant literary community.
At the 1st SOA Literary Festival held in 2020 two eminent litterateurs, Tarun Kanti Mishra and Kali Charan Hembram were bestowed with the SOA Sahitya Samman.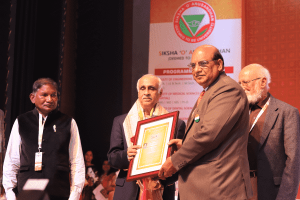 Tarun Kanti Mishra is an eminent Odia story writer who has more than 15 published books to his credit. He was honoured with the Odisha Sahitya Akademi award and Sarala Award for his contribution to literature. Mishra's first story, Hey Pruthibira Nagarika was published in the Odia literary magazine Asantakaali, when he was only 14 years of age. His first anthology of short stories was published in 1968 when he was in college. He has so far published 18 anthologies and a novel. Many of his works have been translated into Hindi, Bengali, Urdu, Telugu, Marathi, Malayalam, Gujarati and English. His works included Aabrtara Duiti Swara, Nisangatara Swara, Komala Gandhaara, Bahubrihi, Jane Nirastra Attatayi, Bitansa, Prajaapatira Dena Naahi, Aakasha Setu, Bhaswati and Kehi Jane Eka Eka .Mishra has also been honoured with the Katha Award, New Delhi and Think Orissa Leadership Awar.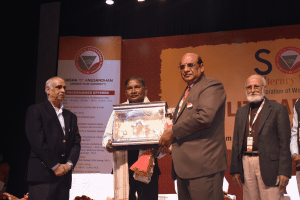 Kali Charan Hembram is a civil servant and an Indian writer who writes in Santali language. Born in Mayurbhanj district of Odisha, he completed his school education from Bahalda High School and graduated from the Tata College subsequently.
Hembram, who writes books, plays and songs in Santali, wrote the dialogue for a Santali film titled Jiwi Jury. His first book was an anthology of short stories titled Sisirjali which was published in 2013. The book contained 15 short stories which won him the Sahitya Akademi Award for Santali in 2019.His other works included Bousoyem Upol, Dhibur Gating, Damadol,Guligodoriyo and Nirmoya Dharti.